World Cultures & Travel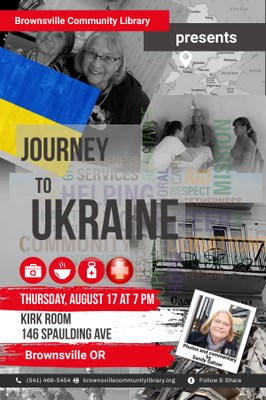 Journey to Ukraine
World Cultures & Travel
2023-08-17T19:00:00-07:00
2023-08-17T20:00:00-07:00
Journey to Ukraine
When

Aug 17, 2023

from 07:00 PM to 08:00 PM

(US/Pacific / UTC-700)

Where

Kirk Room

Contact Name Sherri M Lemhouse
Contact Phone

5414665454

Add event to calendar

iCal
Join us Thursday, August 17 at 7 PM as Sandy Saltzer presents photos and commentary about her humanitarian trip to the war-torn cities of Odessa and Kherson. Join a medical team as we deliver care to the courageous people of Ukraine.
Other programs include former professional photographer and tour guide Don Lyon of these delightful and informative programs. They will include October 19 Romania Reawakens, November 16
Southwest: Pueblos and Canyons, February 15 Indonesia's Islands, and March 21 Exploring Bulgaria. All programs are free of charge.
ACTIVITIES FOR CHILDREN
*Every Tuesday: Parents and Pals Story Time                  2 PM
         Followed by a free play group!
*Every Friday:  Story Time with Craft                             11 – Noon
*STEAM Ahead Thursdays at Farmer's Market: through October 28
Make or Take activity                                                3 – 6 PM
PROGRAMS FOR ADULTS
* EVERY Wednesday:
         Stitchery Group                                      1 - 3 PM
         *Book Club in the Kirk Room
                  3rd Wednesday of each month                    7 PM
September 21     Funeral Arrangements                7 PM
October 19         World Cultures & Travel            7 PM
November 16     World Cultures & Travel            7 PM
December 21     World Cultures & Travel            7 PM
January 18          Long Term Care                          7 PM
February 15      World Cultures & Travel            7 PM
March 21            World Cultures & Travel            7 PM
April 18              Wills                                              7 PM
May 16               Advanced Directives                   7 PM
July TBD           Trusts Part 1                                 TBD
August TBD     Trusts Part 2                                TBD
PROGRAMS FOR ALL AGES
         *Mobile Makerspace:                                             3:30 – 4:30 PM
                  Friday, October 13, November 3, January 6                                 
Library Hours:
Tuesday, Wednesday Friday 10 – 5
Thursday 1 – 7
Saturday 10 – 2