Sherring Books in November
I am Thankful
Thankful as defined by Webster's New College Dictionary is an adjective meaning 'feeling or expressing thanks; grateful.'  Here at the Library there is much to be thankful for.  Patrons that come in to check out a few books, read a magazine or two and look at the display.  Patrons make good use of the computers to search for jobs, cars, check email, complete school work and much more.  You keep me on my toes with your questions, requests, conversations and humor.  Without patrons, the users of the library, we would not be here.  I am thankful for patrons.
Many community members volunteer at the library.  Tasks include greeting and helping patrons, checking books out and in, shelving those same books, helping with book and information searches.  Sandra, Susan, Rich, Pat, Marion, Janet, Cyndi, Lee, Peg, Nettie and Joyce volunteer and work at the front desk.  Carolyn and Madison volunteer in the back room covering books.  Claudia works in the History Room adding information to our research files and assisting patrons in their projects.  Susie comes in once a week and helps input books in the the computerized inventory.  Ronda, does all of the above, plus she will straighten up after the librarian.  Pat and Tricia run the Book Club for Adults.  Out of the limelight are volunteers like Glen.  He quietly comes to pull weeds around the library.  Volunteers are doers!  I am thankful for volunteers.
Kids in a library are indispensable.  I am thankful for the energetic little kids that love coming to the library each week.  Their joy of life is contagious.  Each one knows where the sticker basket or stamp drawer is located.  Each week brings a different guest reader to keep Story time fresh and new.  Game Nights come once a month with older kids and popcorn.  Mom's come to play pinochle while their young ones play games with their peers and Librarian Sherri.  I am thankful for kids.
I am thankful for the support of local clubs.  The Brownsville Womens' Study Club was formed in October 1910 and started the first Brownsville Community library in 1911.  Brownsville Womens' Study Club gives $500 each year for many books and audio books we all enjoy.  The Library Advisory Board helps set library policy and advise the librarian on day to day matters.  The Friends of the Library was formed to make the patrons' experience more enjoyable.  The Friends meet the first Friday of each month.  They will be hosting a book sale on December 4 from 10 – 2 here at your library.  Each Pioneer Picnic they host a great quilt show too!  I am thankful for supporting groups.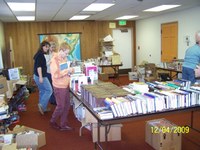 Without all of these good people our library would not be one of the friendliest in Oregon.